Frequently Asked Questions

I'm new to Bennysframeshop.com. How does this work?

Bennysframeshop.com has been providing high quality framing at wholesale prices for over 20 years.

Bennysframeshop.com provides several ways to shop for frames, to make it easy for you:

Personal Frame Shop when you come over to our outlet in Gzira and we let you preview the final product while you make your matting and framing choices. There feel free to try out endless combinations of single mats, double mats and frames.

Custom-Made Frames,online lets you choose a frame and get a quote via email or order your choice of frame, cut and assembled to your exact specifications to an eighth of an inch. Bennysframeshop.com always gives you the best deal!

Ready-Made Frames is where you'll find all our pre-assembled frames in popular sizes. Our selection of Ready-Made sizes fit most standard-size photo prints, documents, awards, certificates and canvases. Ready-Made frames are the same superb quality as our Custom frames, but you save even more! Many of our Ready-Made frames are also available in Custom sizes.


What size frame should I order?

Order a frame size equal to the outside dimensions of the article (picture/photo/Painting) to be framed. For mountted images, use the outside measurements of the mount as your frame size. What is a mount - click here

Example: An 8" X 10" image requires an 8" X 10" frame.

Example: An 8" X 10" image with a 1" mount border all around requires a 10" X 12" frame. When working with double mounts, both mounts will have the same outside dimensions.

Important Note: Stretched canvases can warp, which can result in inaccurate measurements. To prevent this, always measure at the corners of the canvas (not across the middle).


What's a rabbet?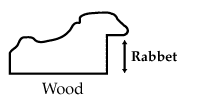 The rabbet is the recess on the back inside edge of the frame into which the artwork fits. On pictureframes.com, "rabbet size" refers to the depth of this recess. Because our custom-made and ready-made frames have open rabbets (see diagram), they will work for almost any framing project.


Will my frame look like the one in the picture?

Different computer monitors display colours differently, so we're unable to guarantee the colour accuracy of our online images. If you're not sure about the colour (or texture, or anything else) of one of our frames, we invite you to come over to our outlet in Gzira to see a frame sample.


How do I size my mat correctly?

We offer custom-cut mounts for uncommon image or paintings and frame dimensions. The easiest way to construct a single or double mount order is to come to our outlet in Gzira, which allows you to preview and also create it.


What do I need to hang my frame?

All our Custom-made frames come with retainer clips, screw eyes and hanging wire.


Do you sell collage mats or mats with special window shapes?

We offer the service where you create your own custom-cut collage mounts for treasuring family memories, these are available in lovely colours and a crisp white.